A walking school bus combines safety, fun, and fitness while walking to school! A walking school bus consists of a group of children walking to school with one or more adults, usually picking up more children at predetermined stops along the route. Walking school buses can be:
Two or three families taking turns walking their children to school
A planned route with meeting points, a time table and a schedule of trained adult volunteers
Once a week, month, on special days or everyday
What are the Benefits of a Walking School Bus?
Parents and Volunteers:
Spend more time with their children
Meet and socialize with other families
Address concerns about their children walking to school
Save gas by leaving the car at home
Schools and Communities:
Reduce traffic congestion near and around schools within the community
Address busing reductions or eliminations for students
Decrease air pollution resulting from fewer gas emissions
Have students arrive on time and ready to learn
How are Walking School Bus Routes Determined?
Route selection will be influenced by:
Routes that are safe
Walking conditions that are good (i.e. sidewalks are present)
Street crossings that are safe
Behavior of motorists
Location of crossing guards
Conduct a walk ability audit and note the following:
Is there room to walk?
Is it easy to cross the street?
Did the drivers behave well?  Did drivers slow down?
Was the walk pleasant?
Print out the Walk Assessment Checklist which can help you assess the walking school bus route and determine the next steps.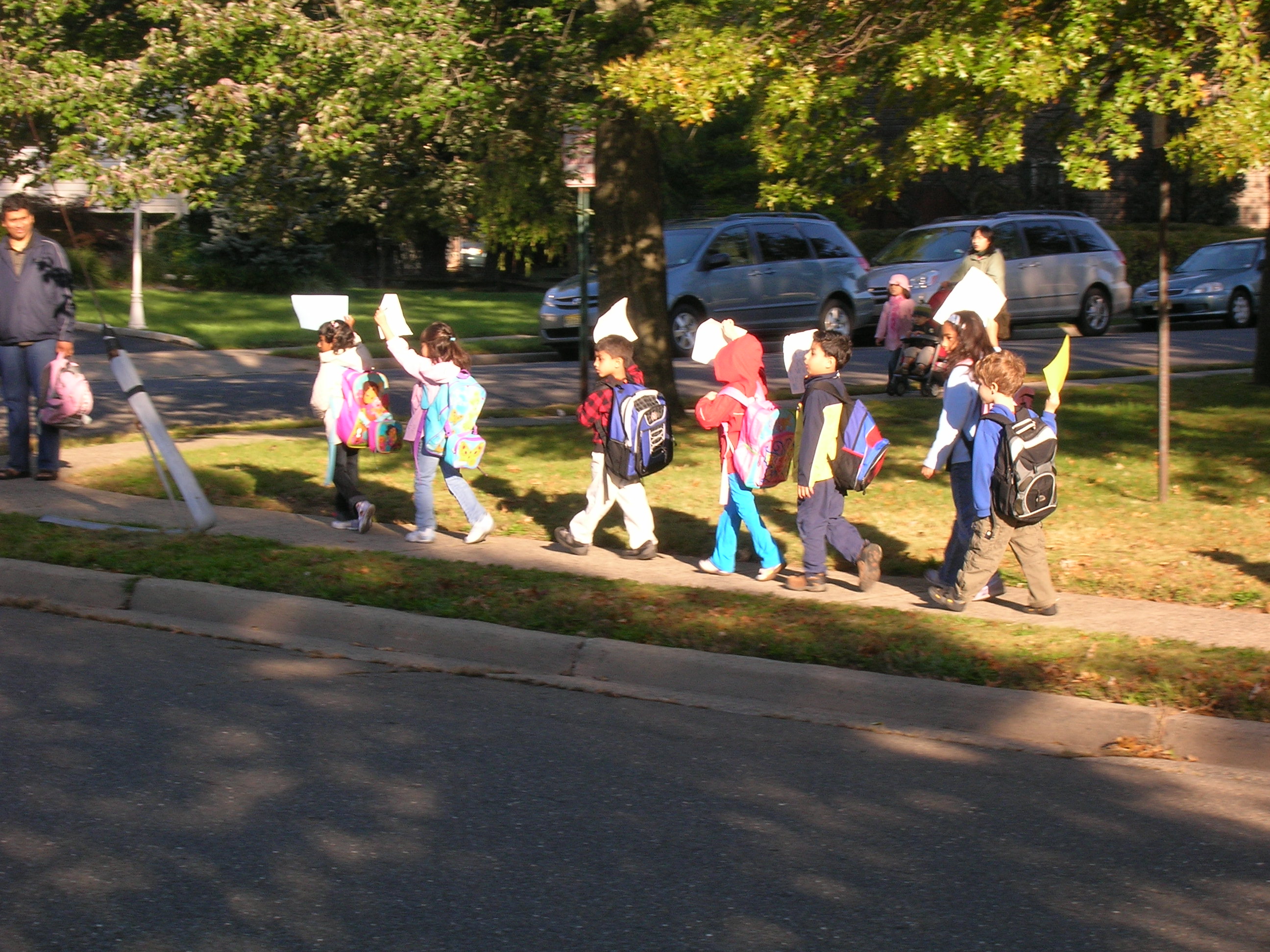 Is It Easy to Start a Walking School Bus?
Start a walking school bus today! Identify key people and willing partners (school leaders, principal, PTOs, parents, police) to help with the planning.
Considerations for a successful walking school bus include:
Achievable — how often, how soon?
Manageable — size of school, number of routes, number of participants
Contactable — can you reach parents, teachers, principals, students?
Recruitable — can you get volunteers?  how many are available?
Walkable — are there sidewalks, crosswalks, crossing guards, traffic signals, etc?
If you are interested in planning a walking school bus, here are details on how to get one going in your community.
You can also contact your SRTS Regional Coordinator for assistance in starting a walking school bus.